WbMztr
Zack's
Blog
post

Wow, haven't posted in a lllllloooonnnng time. I'm a senior now, baby! Oh yeah! We've started our Blues Brothers marching band show, some pretty cool funk in there, "Soul Finger", "I Can't Turn You Loose", "Soul Man", stuff like that. It's turned me on to some great stuff. I've bought Al Green records, more Otis Redding albums, some stuff from Stax, all great stuff. In addition to my new music choices, I've become incredibly interested in the presidential campaign, as a matter of fact, I'm watching the debates right now. I really do not like either of the candidates. President Bush is often a bumbling idiot, but Kerry comes off as arrogant and unsure. As much as I hate to admit it, President Bush has my vote (if i could vote) right now. Sigh. Hey, one last thing. As you might know, I am extremely conservative, but oppose censoring those who aren't. Has anybody noticed Fox News conservative bias? Yea, who hasn't. It's totally unfair. For a supposedly non-partisan, "fair and balanced" news network, their leanings are rediculous. Anyway, here's today's Strange Brew.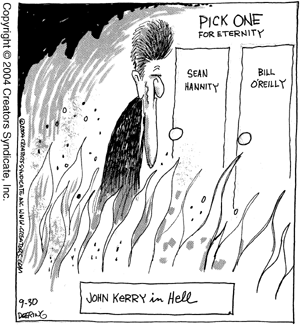 written 9/30/04 at 10:35PM Eastern Time



1276







This work is licensed under a Creative Commons License.
posts

09/30/04

07/21/04

06/28/04

06/23/04

06/19/04

home

archives


Check out my other sites:
The HTML Tutorial
Mysterious Penguin




email

sign guestbook
view guestbook